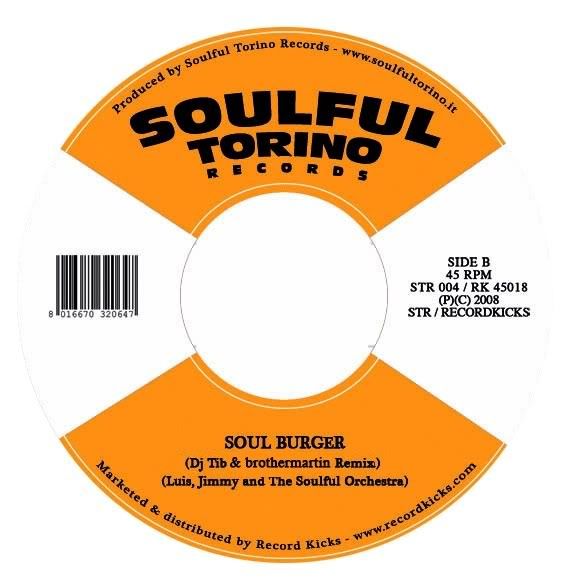 Here we have the
1st single
of the
SOULFUL ORCHESTRA
: a shoutin r'n'b instrumental with a catcy bass, heavy drums and powerful horns.
LISTEN SOUL BURGER ON:
http://www.myspace.com/soulfultorinorecords
LISTEN DJ TIB feat. BROTHER MARTIN ON:
http://www.myspace.com/speenoakadjtib
The band, produced by Luis, Jimmy and Palo Alto, is an allstar combo of musicians coming from top italian bands such as The Bluebeaters, Africa United and Statuto.
Like all the Soulful Torino releases another dancefloor oriented track, a sure shot floor filler.
SOUL BURGER
is gonna do the job!
On the
flip side
a funky taste from the Bolognina scene.
Dj Tib
, recently appeared on Jazzman 12' with a awesome re-edit of Willie Wright's Right On, here he rebuilds Soul Burger groove with the help of
Brother Martin
on flute. Massive!
Soulful Orchesta are:
Cato Senatore, Paolo Parpaglione, Josh Sanfelici, Naska,
Davide "Enphy" Cuccu, Josè Loggia.


Release date 2 June 2008. Soulful Torino Records is a division of Record Kicks.
Also Avalable on Soulful Torino Records:
RK45 007
HECTOR RIVERA
"I wanna chance for romance"- Killer latin-boogaloo 1st official reissue
RK45 017
ITALIAN SPIDERMAN THEME
- Italian spiderman soundtrack. Check out Italian Spiderman on youtube..
RK45 010
YVONNE FAIR / LITTLE DENICE
– 2 sister funk ultra indeman 45s in one
ORDER HERE A COPY, BE THE FIRST.
SEND A MAIL TO LUIS OR JIMMY!
WWW.SOULFULTORINO.IT